PHOENIX 
LOW GAMMA PROBE ACCESSORY
Low Gamma Capability on Any Probe
Fully compatible with all Phoenix HXY, HX, and MAS-DNP probes.
Provides access to low-gamma nuclei as low as 8 MHz.
With low-gamma accessory in place, the probe continues to function as an HX or HXY probe. (Drawing at right shows the accessory blocking the X-channel and H-channel RF connectors, but the accessory allows those channels to be operational).
Convenient design provides quick and efficient switching between normal probe tuning range and the low-gamma tuning range.
Additional Notes:
Small rotor modules and probes at high magnetic field may not tune to the lowest frequency of 8 MHz – ask Phoenix for specifics related to your probe.
Some instrument consoles may require additional external filters, depending on instrument design and isolation.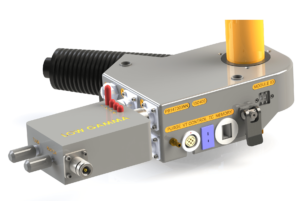 Low Gamma Probe Accessory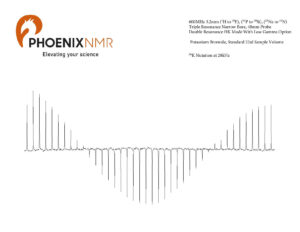 39K Nutation Curve at 28 MHz (14 T magnet)