At PhoenixNMR we recognize how important it is to have the right equipment for your science.  That is why we offer the Phoenix HXY Premium and the Phoenix HX probe lines.  These two probes allow you to choose which probe best fits your project needs.  Both probes have VT performance that far exceeds other competitor's probes. The probes also have full broadband tuning from 31P to 15N in module sizes from 1.6mm to 6mm.  Whether you have basic double resonance experiments or want to run HFXY experiments, PhoenixNMR has a probe that will fit your requirements.
Through our innovative modular probe line, a customer can choose a probe for today's science and still be able to react to tomorrow's changing needs without having to start over from scratch.
Expand your liquids NMR system to include solid state NMR and broaden your science without having to upgrade your entire system or purchase an additional system.
Expand the scope and sensitivity of biomolecular and materials SSNMR research at 400-600 MHz with the Phoenix DNP probe system.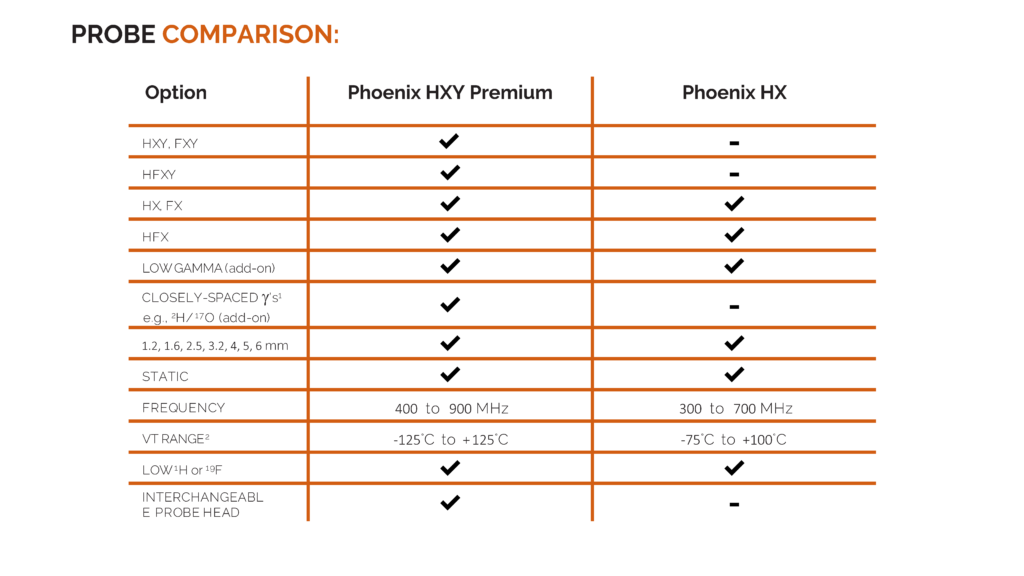 1 Closely spaced gamma's are those nuclei that are less than 20% apart in frequency.
2 VT numbers are general for most materials and MAS modules. For more specifics, see the VT data page.
SOLUTIONS FOR COMMON PROBE PROBLEMS.
Over the years we've listened to your needs, so at Phoenix NMR we've developed our new design to solve some of the most common and, unfortunately, long-lived issues in the SSNMR probe community. For example, for years SSNMR probes have suffered from condensation and even ice formation when running VT experiments. As a result, in developing our probe designs we focused on the prevention of condensation and the elimination of ice formation. Our VT connection system minimizes the thermal transfer pathway from the cold gas stream to the environment and then dissipates the small thermal load to the environment.
We have also recognized that many other probe designs in the market suffer from environmental noise entrance into the probe, which eventually shows up as spectral artifacts. Through the application of careful RF shielding, Phoenix NMR has created a design which is highly isolated from today's noisy environments.
Design improvements such as these reflect our core belief that your research is too important to lose time mopping the floor or trying to eliminate the impact of a spectral "Birdi" in your data. This is exactly what we mean by Elevating Your Science.